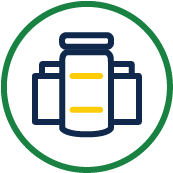 Healthcare Track
Using examples and case studies, this course focuses on applications primarily drawn from healthcare organizations, including office processes and healthcare operations. Project results include improved patient satisfaction scores, reduction of patient wait time, increased equipment utilization, fewer billing errors, and more.
Program Overview
The following modules are required, and you will also receive access to optional supplemental material.
Continuous Improvement Overview – Integrating Lean and Six Sigma, Classic Forms of Waste, Kaizen, Lean-Six Sigma in Healthcare
DMAIC Problem Solving Process
DEFINE: Requirements Flow Down, Linking Customers to Business Performance Metrics (VOC/VOB), Project Charters
Process Maps: SIPOC, Swimlane, Process Mapping Diagram
MEASURE: Exploring Data Patterns & Distributions (Run Charts, Histograms, Box Plots), Outliers (Supplement: Course Software Tutorial)
Descriptive Statistics (Sampling, Mean, Median, Variation)
Measuring Current State Capability (Yield, PPM Defective, DPMO)
Rolled Yield Analysis (Types of Yield, Rolled Yield, Normalized Yield)
Process Stability - Overview of Statistical Process Control (Variable and Attribute Control Charts)
Measurement Systems Analysis (MSA)
Value Stream Mapping – Part 1 (Current State Map, Value Add Timeline)
Value Stream Mapping – Part 2 (Value Stream Productivity Analysis, Effective Process Time, Lean Levers: Pitch Interval, Volume/Mix Leveling, and Future State Maps)
ANALYZE: Qualitative Analysis (Affinity, P-Diagram, Cause-Effect Diagram, 5 Whys)
Stratification Analysis (Grouping Variables, Multiple Box Plots)
Check Sheets and Pareto Analysis
Two Group Hypothesis Tests (F-tests, t-tests, 2 proportion tests)
Two-Variable Analysis: Scatter Plot/Linear Regression/Correlation
Standardized Work Analysis (Time Observation, Capacity Planning Sheets, Detail Job Instructions, Leadership Standardized Work)
IMPROVE: 5S Process, Standardized Work, Training, Error Proofing, Visual Aids, Process Monitoring
Flow Improvements (Push vs. Pull Systems, Little's Law, Batch Size Reduction, Layout Improvement)
Failure Mode and Effects (FMEA) Analysis
CONTROL: Methods of Control
Project Selection and Scoping
Applying the Six Sigma Methodology and Course Summary
Time Commitment and Work Pace
Estimated: 60 self-paced hours
40 hours (approximately) for lecture recordings and exercises

10-30 hours for project work
All requirements must be completed within 180 days after your start date. If you do not complete the course within one year of your start date, you will be required to re-enroll at a reduced cost of $500.
This is a self-paced online course consisting of 24 lecture modules with 22 exercises (multiple choice tests to complete after each learning module). Most lecture tapes are approximately one hour in length. While the course is self-paced, we recommend completing two sessions/week.
Lean Six Sigma DMAIC analysis may be applied to a vast array of process improvement opportunities. Participants are expected to complete a project to practice and apply course concepts.
Certification Requirements
Participants pursuing their University of Michigan Lean Six Sigma Green Belt Certification are required to:
Complete all required online lecture modules
Complete all testing exercises with an overall cumulative score > 80%
Successfully complete Green Belt Project (reviewed by U-M faculty)
Upon successful completion, you will be mailed your University of Michigan Lean Six Sigma Green Belt Certification.
Prerequisites & Technical Requirements
A basic understanding of statistical analysis methods is recommended, including:
Basic Microsoft Excel Skills

Basic Statistics
To view technical requirements, click here.
Administrative/Online Technical Support
Support staff are available via phone and email to help with administrative and technical issues during our normal business hours (Monday through Friday 8:00 a.m. to 5:00 p.m. Eastern Time).
Content Questions/Certification Project Support
Candidates are welcome to contact the course instructors for content questions and project support. The instructors will provide support via e-mail, phone consultation, and/or online videoconferencing.
Learning Objectives
Understand variability through the graphical representation of data
Describe a process visually through process mapping techniques
Apply DMAIC problem solving process toward process improvement at the Green Belt level
Interpret test results and draw conclusions based on data
Develop recommendations and control plans to improve processes
Complete a process improvement project outside of class that demonstrates the application of the full DMAIC methodology
Complimentary Software
U-M's Green Belt Certification courses include a copy of QE Tools statistical analysis software. QE Tools is a user-friendly Excel add-in tool designed for Lean Six Sigma Green Belts. Students will use QE Tools to apply the various problem solving and statistical analysis methods both within the course and for their Lean Six Sigma project.
Instructional Team